Shoe Labels
available with found-it™

no scuffing or tearing

weatherproof

won't fade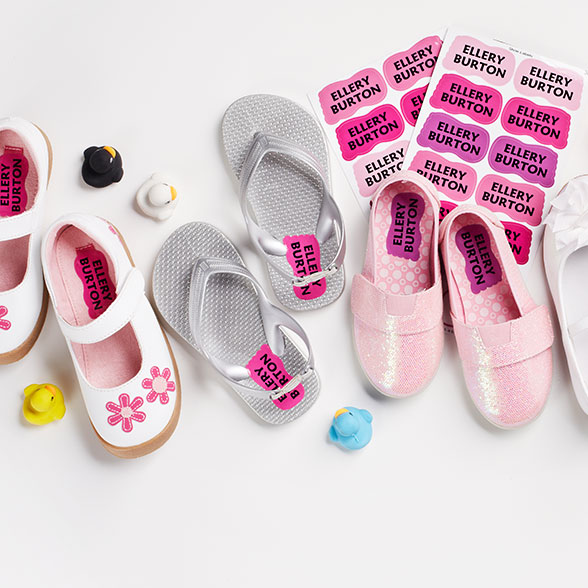 These Shoe Labels come in left and right foot shapes to help kids put on their own shoes correctly. And, to prove that they're durable, we had NFL quarterback Peyton Manning stick a pair into his shoes right before a game... Nah, not really. Take our word for it though; we promise your kids will wear out (or outgrow) their shoes before they wear out our Shoe Labels.
Our super-durable name labels for shoes are completely waterproof, scuff-proof and designed to withstand even the hottest, sweatiest, most active feet.
Shoe Labels are also available in:
Preschool Package
,
Clothing Package
,
Camp Package
,
School Package
sandals
running shoes
flip-flops
boots
slippers
sporting footwear
size: 2" x 1" | 50mm x 26mm
available with Found-it™
comes in left and right foot shapes to help kids put their shoes on independently
high-performance vinyl
waterproof
weatherproof
super-strong adhesive
high quality, full-color printing
scuff-proof
tear-resistant
Peel and stick to clean, dry, insoles of shoes.
Smooth down to ensure strong contact.
These labels are not a toy and should be applied by an adult or under adult supervision.
Share your thoughts on our products. Click here to write a review..
---
Laura Francoeur
(
2017-07-10
)
Kirsten Lahnemann
(
2017-07-03
)
Amanda Tymofichuk
(
2017-06-20
)
Dawn Schakett
(
2016-11-26
)
Skronis@hotmail.com
(
2016-11-25
)
Amber Grantham
(
2016-10-02
)
michelle mize
(
2016-09-07
)
Caroline Veillette
(
2016-09-06
)
christina buesing-gentile
(
2016-08-30
)
Frida Berdugo
(
2016-04-13
)
Louise Marois
(
2016-03-18
)
Kelly A. Wyatt
(
2015-11-04
)
Pamela Denton
(
2015-11-03
)