Personalized Cat
remove & reapply

won't curl

won't fade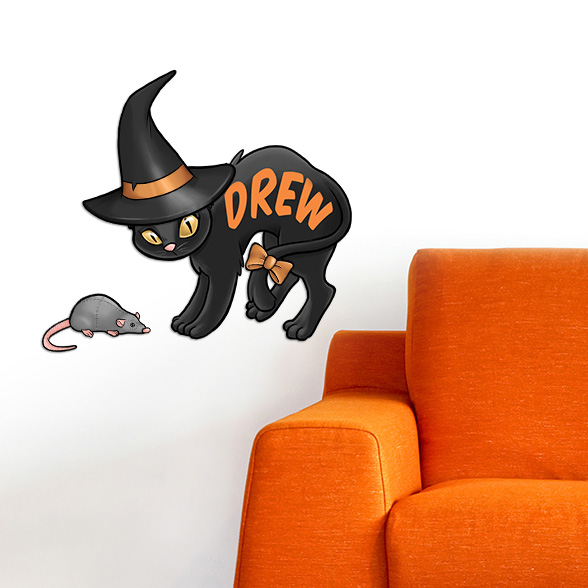 Black cats have often been a symbol of evil omens in Western culture, and folklore tells stories of them being spies for witches. But in Scottish culture, the arrival of a black cat signifies prosperity. Let's go with that! This cat is sure to be a fun addition to your Halloween decorations and she comes with her own side-kick mouse.

The personalized cat decal is about 11.75" x 9.75" (29.85cm x 24.76cm) and the toy mouse decal is about 5.5" x 3.25" (14cm x 8.25cm). Our Wall Art material has a beautiful non-glossy finish and can be removed and applied again and again without causing damage to your wall.

Sticks on your wall forever… or until you change your mind.
Cat decal approx. 11.75" x 9.75" | 29.85cm x 24.76cm
Toy mouse decal approx. 5.5" x 3.25" | 14cm x 8.25cm
4 decals in total
high quality, full-color printing
polyester textile material with gentle adhesive backing
non-glossy finish
won't curl or fall off
removable without causing damage
reusable
Before you start…
Plan out exactly where you want to position the decals before you start.
Your hands and the surface to which you will be applying your decals should be clean and dry.
Wait at least 2 weeks before applying decals to a freshly painted wall (or check the paint manufacturer's recommendations).
Applying decals:
Peel the decals off of the backing paper and stick them to the wall.
Gently smooth the decals down with your finger to remove any air bubbles and to ensure all the edges are firmly stuck.
Removing decals:
Remove the decal by peeling it off very slowly at a sharp angle (180°).
Share your thoughts on our products. Click here to write a review..
---