Safety Wristbands
no scuffing or tearing

weatherproof

won't fade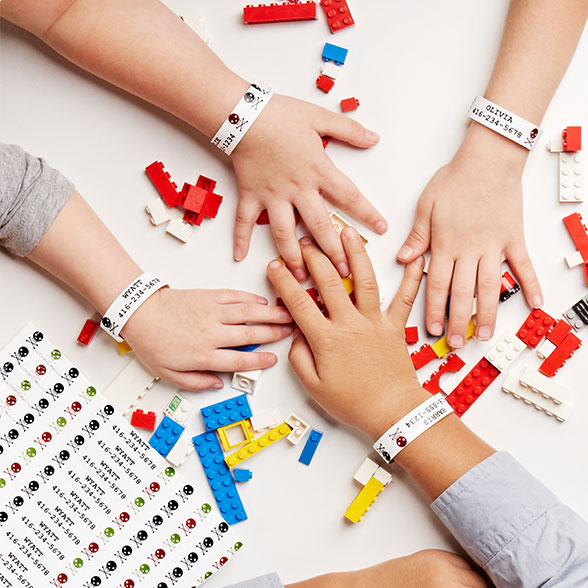 To your kids, these are "magic power bands" but to you, they're peace of mind. Personalize these Safety Wristbands with your cell phone number or other important information like allergies and special needs. They're perfect for wearing on school trips, vacation or even a quick trip to the mall.
These wristbands feel like paper but act like plastic. They're completely waterproof and tear resistant so they'll last the whole day. When you're done, just cut it off and throw it away.
school trips
theme parks
water parks
public pools
indoor playgrounds
the mall
vacation
size: 7-3/4" x 9/16" | 196mm x 15mm
adjustable to fit kid-sized wrists up to about 6.5" around
one-time-use, disposable
waterproof
weatherproof
super-strong adhesive closure
high quality, full-color printing
scuff-proof
tear-resistant
Separate a wristband from the sheet by folding and tearing along the perforations.
Peel off the paper tab to expose the adhesive.
Wrap the wristband around the child's wrist, printed-side-out and stick the ends together. For a comfortable fit, place one or two fingers between the child's wrist and the wristband when sealing.
To remove, use scissors or pull the non-adhesive end in the opposite direction.
These wristbands are not a toy and should be applied by an adult or under adult supervision.
Share your thoughts on our products. Click here to write a review..
---
Nathalie Lacroix
(
2017-07-13
)
Lisa Schultz
(
2017-07-05
)